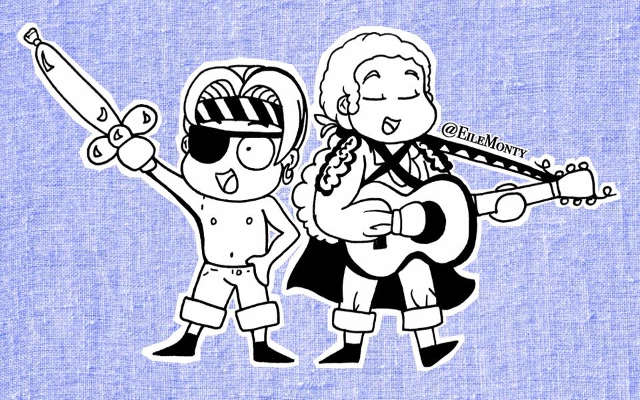 The Longest Journey - Jollyboat Edition!
THE LONGEST JOURNEY - JOLLYBOAT EDITION!
HOW TO PLAY:
Download the zip file. Print out the Map and Rules to get started! Best printed at A4 sizes and in colour! :)

PLAY LENGTH:
Between 5 and 10 minutes! But if you want to do more storytelling then feel free to take longer!
WHAT IS THIS???
Once upon a kraken, ED and TOMMY (the famous JOLLYBOAT brigands) came upon a mysterious island off the coast of an unknown continent!
Upon seeing the potential for pillaging, looting, and gigging, they set each other a grand challenge: WHO COULD HAVE THE LONGEST JOURNEY IN THIS LAND AND COLLECT THE MOST BOOTY - WHILST NEVER RETRACING THEIR OWN STEPS?
Play as ED or TOMMY and prove yourself as a pirate champion in this two player game of strategy, wit, and storytelling!
HAVEN'T HEARD OF JOLLYBOAT???
You are in for a treat me hearties! Check out the Croft brothers as they perform outlandish feats of geeky / pirate-themed musical entertainment at www.jollyboat.co.uk ! Here's them at Anime Con!
Fan art by @EileMonty!

Made by BAGEL+BALLOON for the Jollyboat Games Jam!

Download
Download
The Longest Journey - Jollyboat Edition by BAGEL+BALLOON.zip
20 MB